Need something to warm you up? Here's a recipe the whole family will love! Spaghetti in pie-form? Perfection. Check out Katie's favorite recipe from Half Baked Harvest below!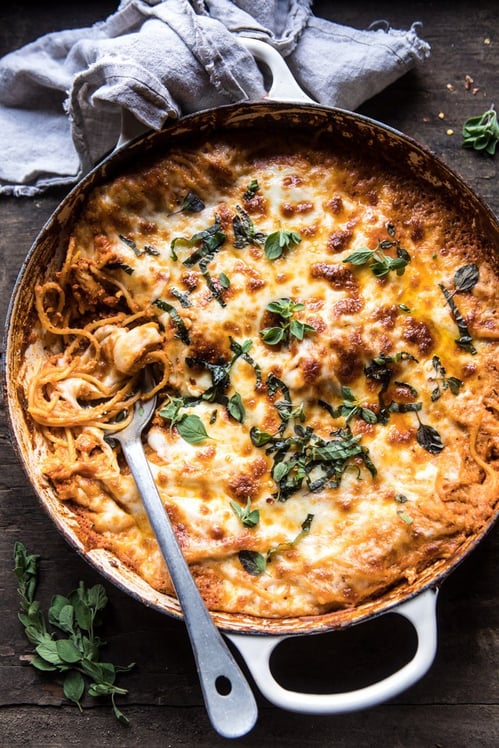 INGREDIENTS:
1/2

cup

extra virgin olive oil

6

cloves

garlic, minced or grated

2

teaspoons

dried oregano

2

teaspoons

dried basil

1

teaspoon

dried parsley

1

teaspoon

crushed red pepper flakes

kosher salt and pepper

1

pound

dry spaghetti

1

jar (24 ounce)

marinara sauce

4

eggs

1

cup

whole milk ricotta cheese

1 1/2

cups

shredded mozzarella cheese

1/2

cup

grated parmesan cheese

fresh basil and/or oregano, for topping
PREPARATION
1. Preheat the oven to 375 degrees F.
2. In a large 12-inch (or larger) oven-safe saucepan, combine the olive oil, garlic, oregano, basil, parsley, and crushed red pepper flakes. Cook over medium heat, stirring, often until the garlic is golden and caramelized, about 5 minutes. Carefully add the marinara sauce, 2 cups water, and season with salt and pepper. Add the spaghetti, breaking it in half if needed to make it fit in your pan. Increase the heat to heat to high. Bring the mixture to a boil. Stir frequently until the spaghetti is al dente, about 8-10 minutes.
3. Meanwhile, in a medium bowl, combine the eggs, ricotta, and parmesan.
4. Remove the pasta from the heat and stir in the ricotta cheese mix. Top with mozzarella. Transfer to the oven and bake for 20-25 minutes, or until the cheese is melted and bubbly. Top with fresh basil.