Have you ever made your own granola? It's incredibly easy and tastes amazing! It requires just a couple simple ingredients and is easily customizable to suit your family's tastes. Serve over yogurt, or eat it by itself with milk!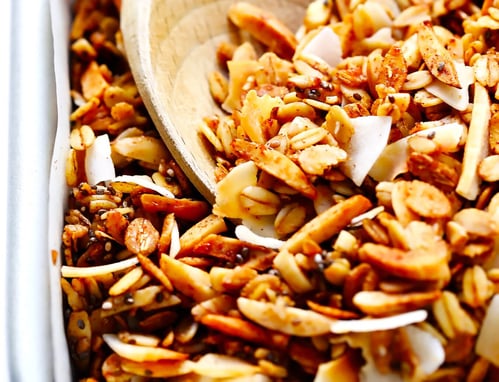 INGREDIENTS
4 cup

s

old-fashioned oats*

1 cup

slivered almonds (or your preferred kind of nuts/seeds)

1/4 cup

chia seeds (optional)

2 teaspoon

s

ground cinnamon

3/4 teaspoon

fine sea salt*

1/2 cup

melted

coconut oil

1/3 cup

maple syrup or honey

2 teaspoon

s

vanilla extract

2/3 cup

unsweetened coconut flakes (or

1/2 cup

shredded coconut)

1/2 cup

chopped dried fruit or

semisweet chocolate chips (optional)


PREPARATION
Heat oven to 350°F. Line a

large baking sheet

with

parchment paper, and set aside.
In a

large mixing bowl, stir together oats, almonds, chia seeds, cinnamon and sea salt until evenly combined.
In a separate

measuring cup, stir together the melted coconut oil, maple syrup and vanilla extract until combined. Pour the coconut oil mixture into the oats mixture, and stir until evenly combined.
Spread the granola out evenly on the prepared baking sheet. Bake for 20 minutes, stirring once halfway through. Then remove from the oven, add the coconut, and give the mixture a good stir. Bake for 5 more minutes, until the granola is lightly toasted and golden.
Remove from the oven and transfer to a

wire baking rack. Let cool until the granola reaches room temperature. Then stir in the dried fruit, chocolate chips or any other optional add-ins you might prefer.
Serve immediately, or store in an airtight container at room temperature for up to 1 month.
Comment below and let us know what you like to put in your granola!