These baked chicken meatballs are the perfect school-night dinner! Not only are they super easy to make, but the whole family loves them! Allison makes them constantly for her family and they gobble them up every time!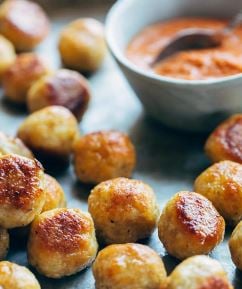 INGREDIENTS:
1 pound ground chicken or turkey
1 egg
1/2 cup panko breadcrumbs
1/2 cup grated Parmesan
2 tablespoons olive oil (optional – makes meatballs more moist and yummy)
1/2 teaspoon garlic powder
1/2 teaspoon onion powder
1/2 teaspoon salt
black pepper to taste
additional seasonings optional!


INSTRUCTIONS
Preheat the oven to 400 degrees. Line a baking sheet with foil and a little cooking spray.

Mix all of the ingredients together in a mixing bowl.

Roll the mixture into about 30 small balls and place on baking sheet.

Bake for 25-30 minutes. Turn halfway through.

A little more about Blue Marsh Insurance...
When he founded Blue Marsh, Tom Davenport wanted to create a different kind of insurance company. One that's built on personal relationships and a local presence. One where you, the customer, feel more like a friend.
As an independent insurance agency, Blue Marsh Insurance represents a carefully selected group of financially strong, reputable insurance companies. Therefore, we are able to offer you the best coverage at the most competitive price.
If you're interested in starting a quote online or having us take a look at your current policies, click here!