We are excited to announce that our Charity of the Month for May, 2020 is Honey Brook Community Partnership! For every referral we receive this month, $10 will be donated back to this amazing charity that brings together "borough and township partners to facilitate communication, share resources, and work together to enhance our community".
Founded in 2008, a group of Honey Brook area businesses and non-profits came together to highlight local merchants through the Tour of Pennsylvania bike race. With assistance from the Western Chester County Chamber of Commerce, the group continued to meet and eventually formed the Honey Brook Community Partnership. The Partnership's vision is to have a thriving main street, safe neighborhoods, preservation of historical elements, and maintaining Honey Brook's rural charm.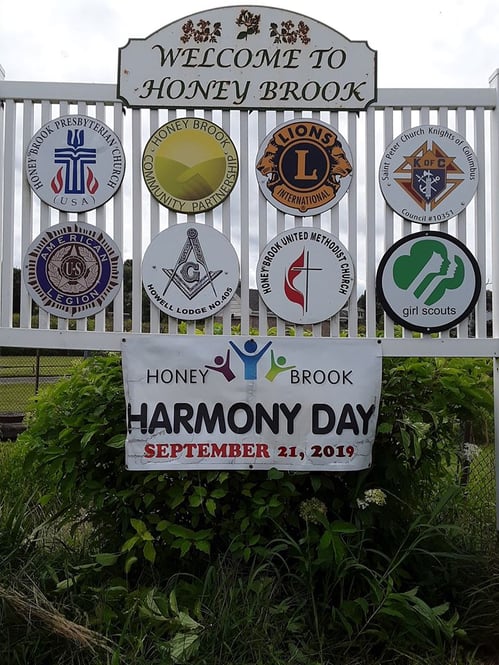 Since its establishment in 2008, the Honey Brook Community Partnership has:
Re-instituted and revitalized

Harmony Day

as our largest annual community event
Founded and organized the annual Deck the Brook Winter Holiday event

Worked in partnership with the Honey Brook Lions to erect the four Welcome to Honey Brook signs along routes 10 and 322

Created the monthly "Buzz" feature in the Tri-County Record to highlight ongoing events in our community

Raised funds to purchase Automatic Electronic Defibrillators (AEDs) for the ambulance and police departments

Established the Welcome Bag program to introduce new residents to the many features of the Honey Brook area

Provided ongoing support to many local organizations, including the Honey Brook Food Pantry

Started a scholarship program for Twin Valley High School students
For every referral that we receive in the month of May, TEN DOLLARS will be donated directly back to this important organization that is doing great things for our community!

Here's How It Works:
· Inspire your friends, family, and Co-workers about Blue Marsh Insurance – so they can be happy too!
· Encourage them to call 610-590-0152 or email myagent@bluemarsh.com and mention Your Name
· In addition to supporting Honey Brook Community Partnership, you could win great prizes!
Remember, there's no limit to the number of people you can REFER or the number of times your name can be entered to win!
Multiple referrals = more chances for YOU to WIN = Making a difference in our local community!
Tell others about Us, You'll Help OUR Community, AND you could win great prizes! Learn more here!