Katie's Deep Dish Mini Pizzas are a kid (and adult!) favorite!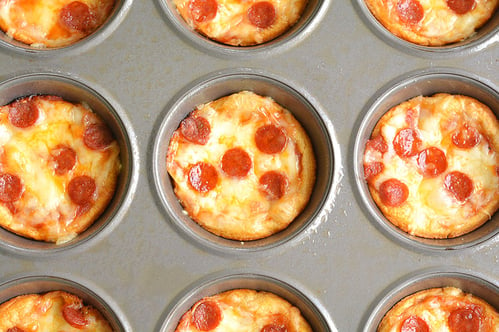 INGREDIENTS
1 package Crescent Roll Dough
Mini Pepperoni Slices
Grated Mozzerella Cheese
1 small can of Pizza Sauce
PREPARATION
1. Heat oven to 375 degrees.
2. Spray a muffin tin with cooking spray.
3. Lay the crescent roll dough on a cookie sheet and cut out 12 circles or 12 squares if you want larger pizza muffins.
4. Place the dough at the bottom of each muffin cup.
5. Add a layer of cheese, a spoon of pizza sauce to cover the cheese, another layer of cheese and your favorite toppings.
6. Bake at 375 degrees for 15 minutes until the cheese starts to bubble and the crust is golden brown.
7. Let them sit for 5 minutes before pulling the mini pizzas out of the muffin tin.