This month our team is sharing some of their favorite Irish-inspired recipes including:
Irish Beef Guinness Stew
Bangers & Mash with Onion Gravy
Shepherd's Pie
Irish Banger Skillet
Sheperd's Pie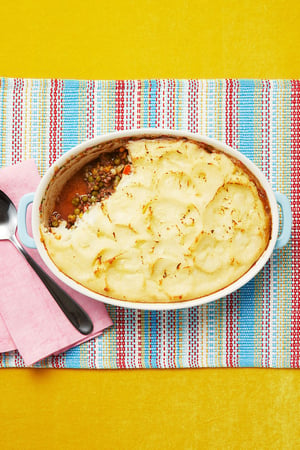 INGREDIENTS:
For the beef and vegetable layer:
1

lb.

ground beef

1

1/2

c.

chopped yellow onions

3/4

c.

chopped carrots

1/2

c.

peas (can use frozen)

1/2

c.

corn kernels (can use frozen)

2

tbsp.

butter

2

tbsp.

flour

1

tbsp.

fresh thyme leaves

1

clove garlic, pressed or minced

1

c.

beef stock
Salt and pepper
For the mashed potato layer:
2 lb. Yukon Gold potatoes, peeled and cut into large cubes

1/2 c. heavy cream

1/4 c. milk

3 tbsp. butter, softened or melted

1 c. grated cheddar cheese

Salt and pepper
INSTRUCTIONS
Heat a large skillet over medium high heat, then add beef. Brown beef until fully cooked, about 5 minutes (I find there's enough fat released in the beef that I don't need to add oil to the pan). Soak up excess beef fat with a paper towel, then add onion and carrot. Season with a pinch of salt and pepper, then cook for 10 minutes, until soft.

Add the peas and corn, and cook for 2 minutes. Add butter to the pan and toss around until fully melted, then stir in flour, thyme leaves, and garlic. Stir for 1 minute, until flour disappears. Add beef stock, then bring liquid to a boil over high heat. Cook for a minute or two until broth thickens into a light sauce. Remove pan from heat and transfer beef and veggie mixture to an 8x8 baking dish.

Preheat oven to 425ºF.

To make the mashed potatoes, place cubed potatoes in a pot filled with cold water. Place on the stove set over high heat and bring to a boil. Cook for about 5 minutes, until potato cubes are fork-tender. Drain potatoes, then spread them out on a sheet pan in a single layer and let sit for a couple minutes so the steam can escape. Use a fork or potato masher to mash the potatoes, then stir in cream, milk, butter, and cheese. Make any necessary seasoning adjustments with salt and pepper. Spread mashed potatoes on top of the beef and veggies in the 8x8 baking dish.

Bake shepherd's pie for 20–25 minutes, until mashed potatoes are golden brown and crispy on top. Serve and enjoy!
Bangers and Mash with Onion Gravy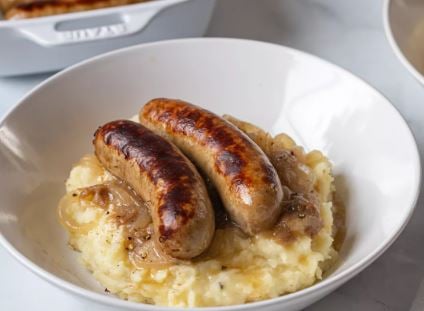 INGREDIENTS:
For the Onion Gravy:
2 tablespoons vegetable oil

2 tablespoons unsalted butter

2 medium onions, thinly sliced

1 teaspoon balsamic vinegar

1 teaspoon sugar

2 1/2 cups beef stock

4 teaspoons cornstarch, or corn flour

4 teaspoons cold water

Kosher salt, to taste

Freshly ground black pepper, to taste
For the Mash:
2 pounds potatoes, peeled and quartered

6 tablespoons milk

8 tablespoons (1/2 cup) unsalted butter, cubed

Kosher salt, to taste

Freshly ground black pepper, to taste
For the Bangers (Sausage):
2 tablespoons vegetable oil

8 thick sausages (pork, beef, or flavored)
INSTRUCTIONS:
1. First, start by making the gravy. Heat the oil and butter in a large saucepan over gentle heat. Add the onions and cover with a lid. Cook slowly for approximately 10 minutes or until the onions are soft.
2. Add the balsamic vinegar and sugar to the onions and stir well. Cover with the lid and continue to cook for a further 5 minutes.
3. Add the stock and boil gently, uncovered, for 5 minutes.
4. In a small heatproof jug or bowl, mix the cornstarch with the cold water to form a thin paste.
5. Pour a little of the hot stock into the starch mixture and mix thoroughly. Pour the starch mixture back into the gravy. Raise the heat to high and boil for 10 minutes or until the gravy is slightly thickened. Season with salt and pepper, to taste. Keep warm until ready to serve.
6. Meanwhile, start the mashed potatoes. Put all of the potatoes in a pot with cold water, bring to a boil, then reduce to simmer and cook until fork-tender. The fork should be able to easily pierce the potato without effort.
7. Drain and keep warm until ready to mash.
8. While the potatoes are cooking, cook the sausages. Heat the oil in a large frying pan over medium heat. Add the sausages. Fry until the sausages are golden brown and firm, turning them from time to time, about 20 minutes.
9. Once cooked, place in an ovenproof dish and keep warm until the mash and gravy are ready.
10. Finish the mash by adding the milk and butter to the pan used to boil the potatoes. Place over low heat and warm gently until the butter has melted. Add the potatoes and mash. Season with salt and pepper.
11. Place 2 fat sausages on top of the mash and pour the onion gravy over the dish. Enjoy!
Irish Beef Stew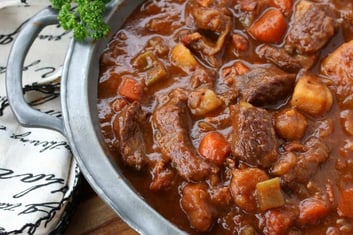 INGREDIENTS:
6

ounces

bacon

,diced

2

pounds

beef chuck

3

tablespoons

all-purpose flour

2

medium-large yellow onions

,chopped

3

cloves

garlic

,minced

4

medium firm

,waxy potatoes (e.g., Yukon Gold), cut in 1-inch pieces

2

large carrots

,chopped in 1/2 inch pieces

2

ribs celery

,chopped in 1/2 inch pieces

1

large parsnip

,chopped into 1/2 inch pieces

1

bottle

(1 pint or 16 ounces) Guinness Extra Stout

1

cup

strong beef broth

2

tablespoons

Worcestershire sauce

1/4

cup

tomato paste

1

teaspoon

dried thyme

1

teaspoon

dried rosemary

1 1/2

teaspoons

salt

1/4

teaspoon

freshly ground black pepper

2

bay leaves

Salt and pepper to taste
INSTRUCTIONS:
1. Cut the beef across the grain into into 1-inch pieces. Sprinkle with some salt, pepper and the flour and toss to coat the pieces. Set aside.
2. Fry the bacon in a Dutch oven or heavy pot until done then remove it with a slotted spoon, leaving the bacon drippings in the pan.
3. Working in batches and being careful not to overcrowd the pieces, generously brown the beef on all sides. Transfer the beef to a plate and repeat until all the beef is browned.

4. Add the onions and fry them, adding more oil if necessary, until lightly browned, about 10 minutes. Add the garlic and cook for another minute. Add the vegetables and cook for another 5 minutes. Add the Guinness and bring it to a rapid boil, deglazing the bottom of the pot (scraping up the browned bits on the bottom). Boil for 2 minutes.

5. Return the beef and bacon to the pot along with the remaining ingredients and stir to combine.
6. At this point you can transfer everything to a slow cooker if you prefer. Follow the remaining steps and then cook on LOW for 6-8 hours or on HIGH for 3-4 hours.
7. Bring it to a boil. Reduce the heat to low, cover and simmer for 2 hours. Add salt and pepper to taste.
8. Serve with some crusty country bread or Irish soda bread. This soup is even better the next day.
Recipe from The Daring Gourmet
Irish Banger Skillet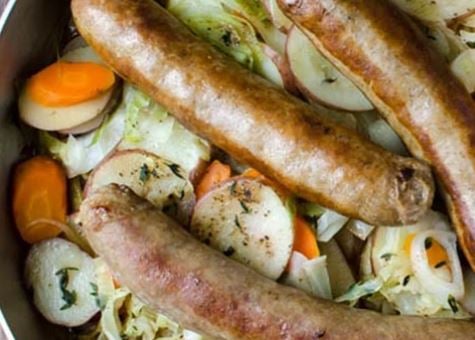 INGREDIENTS:
2 tbsp olive oil
1 lb Irish banger sausages
1 1/2 cups red potatoes
1 medium onion
1/2 head green cabbage, cored and thinly sliced
3 carrots peeled
1 1/2 cups low sodium chicken broth
1/2 tbsp fresh thyme
1/2 tsp kosher salt
1/4 ground black pepper
INSTRUCTIONS:
1. In a 10-inch skillet with a tight-fitting lid, heat the Olive Oil (2 Tbsp) over medium-high heat. When the oil starts to glisten and shimmer, carefully add the Irish Banger Sausages (1 lb) and cook, turning occasionally until browned.
2. Transfer the sausages to a plate. Into the pan over medium heat, layer in half of the Onion (1) , Red Potatoes (1 1/2 cups) and Green Cabbage (1/2 head) . Layer the remaining onions, potatoes, and cabbage. Sprinkle with Carrots (3) and Fresh Thyme (1 tsp) .
3. Pour Low-Sodium Chicken Broth (3/4 cup) over the vegetables, sprinkle with Kosher Salt (1/2 tsp) and Freshly Ground Black Pepper (1/4 tsp) and cover tightly. Simmer for 10 minutes.
4. After the vegetables have cooked for 10 minutes, nestle the sausages into the potato mixture, along with any accumulated juices. Add the remaining Low-Sodium Chicken Broth (3/4 cup) and Fresh Thyme (1 tsp) , then cover and cook for an additional 10 minutes, or until potatoes and carrots are very tender.
5. Remove the sausages and cut them into chunks. Return the sausages to the pan and serve.

A little more about Blue Marsh Insurance...
When he founded Blue Marsh, Tom Davenport wanted to create a different kind of insurance company. One that's built on personal relationships and a local presence. One where you, the customer, feel more like a friend.
As an independent insurance agency, Blue Marsh Insurance represents a carefully selected group of financially strong, reputable insurance companies. Therefore, we are able to offer you the best coverage at the most competitive price.
If you're interested in starting a quote online or having us take a look at your current policies, click here!