EMERGENCY ROADSIDE SERVICE COVERAGE
What it is and why you might want it.
Emergency roadside service is an optional coverage that you can add on to your auto insurance policy. In the case of an unlucky breakdown with your car, emergency roadside service coverage can save the day. Not only is it an affordable add-on, but you'll be happy you have it should you be stuck on the side of the road.
Even if you take good care of your car, you could still find yourself needing roadside assistance. By having this additional coverage, you'll have peace of mind knowing someone is always there to help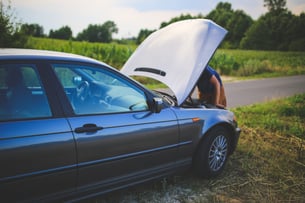 What can emergency roadside service help with?
Roadside service coverage can help you with lockouts, flat tires, mechanical breakdowns, dead batteries, and it can even save the day when your car runs out of gas.
How much does coverage cost?
Emergency roadside service coverage can cost as little as $5 per vehicle, per year. It's practically a no-brainer to add it to your auto insurance policy!
What about towing?
Emergency roadside service coverage covers the cost to pull your car out of the ditch or snow if you end up within 10 feet of the highway. (If the distance is greater than 10 feet, there may be an out-of-pocket expense.)
The coverage also provides towing to the nearest service garage plus 20 miles. If you need to go beyond this mileage radius, you would pay the difference. Some roadside assistance programs limit emergency towing to 10 miles.
Interested in emergency roadside service coverage? Give us a call at 610-590-0152

A little more about Blue Marsh Insurance...
When he founded Blue Marsh, Tom Davenport wanted to create a different kind of insurance company. One that's built on personal relationships and a local presence. One where you, the customer, feel more like a friend.
As an independent insurance agency, Blue Marsh Insurance represents a carefully selected group of financially strong, reputable insurance companies. Therefore, we are able to offer you the best coverage at the most competitive price.
If you're interested in starting a quote online or having us take a look at your current policies, click here!