Mickie made this sheet pan broccoli tortellini bake for her family and said it was "Delicious!"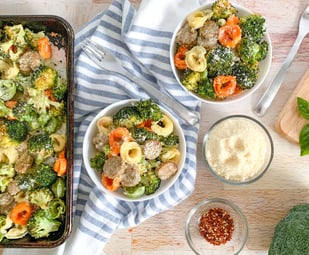 INGREDIENTS:
1 ½ lbs of fresh broccoli (about 3 medium-small crowns), cut into florets
1 tablespoon (3 cloves) of garlic, minced fine
11 oz of chicken sausage (or 4 links of your favorite sausage), precooked
16 oz package of frozen cheese tortellini
8 oz of grated parmesan cheese--not the stuff from the can!
¼ teaspoon of red pepper chili flakes (optional)
6 tablespoons of olive oil
INSTRUCTIONS
Preheat the oven to 400º.

On a sheet pan, toss the broccoli florets and the minced garlic together with 2 tablespoons of olive oil. Sprinkle with a little salt and pepper.

Roast for 10 minutes at 400º, until the broccoli is partially cooked, bright green, but not tender.

While the broccoli is roasting, slice the sausage links into thin slices and place in a large bowl.

Once the broccoli has roasted for 10 minutes, remove from the oven and turn the heat up to 450º.

Carefully add the hot broccoli and garlic to the bowl with the chicken sausage. Add in frozen tortellini, red pepper flakes (if using), and 3 tablespoons of olive oil.

Measure out a ½ cup of the parmesan cheese and set aside. Add the remaining parmesan to the bowl of tortellini, broccoli, and chicken sausage.

Gently toss the mixture together and make sure everything is well coated in cheese and olive oil.

Using the same sheet pan you roasted your broccoli on, add 1 tablespoon of olive oil and spread it around to coat the pan. This will help prevent sticking.

Pour your parmesan, broccoli, chicken, and tortellini mixture on to the sheet pan.

Bake at 450º for 12-15 minutes until the cheese is melted and browned, and the edges of the sausage and tortellini are crispy.

Remove from the oven and sprinkle the remaining ½ cup of parmesan cheese on top.

Serve with a sprinkling of fresh basil and crushed red pepper flakes.
Recipe from Barefoot in the Pines

A little more about Blue Marsh Insurance...
When he founded Blue Marsh, Tom Davenport wanted to create a different kind of insurance company. One that's built on personal relationships and a local presence. One where you, the customer, feel more like a friend.
As an independent insurance agency, Blue Marsh Insurance represents a carefully selected group of financially strong, reputable insurance companies. Therefore, we are able to offer you the best coverage at the most competitive price.
If you're interested in starting a quote online or having us take a look at your current policies, click here!