Our Protection Advisor, Steve Schappell, says that his mom used to make a version of this layered red velvet cake for him every year on Valentine's Day. Why not make it for someone you love this year?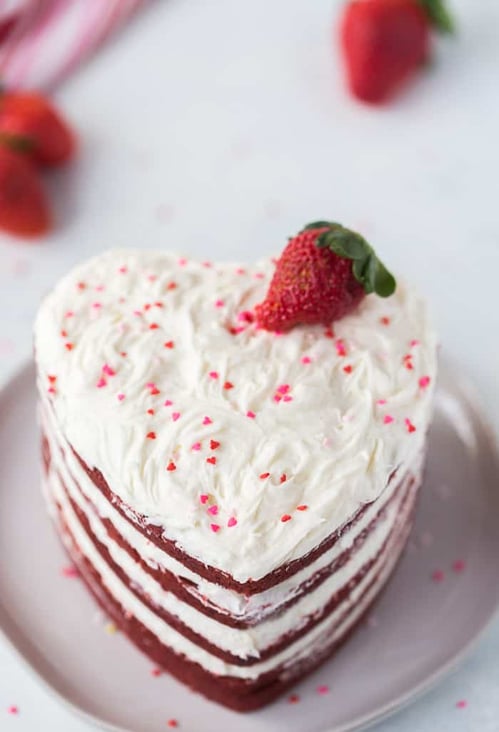 INGREDIENTS
FOR THE CUPCAKES:
1 ¼ cups all-purpose flour

½ teaspoon salt

1 cup granulated sugar

½ cup unsalted butter, softened

1 large egg, room temperature

1 teaspoon pure vanilla extract

½ cup buttermilk, room temperature

2 teaspoons liquid red food coloring

2 teaspoons cocoa powder

¼ teaspoon baking soda

2 teaspoons apple cider vinegar (or regular vinegar)
CREAM CHEESE FROSTING:
8 ounces cream cheese, softened

½ cup (1 stick) unsalted butter, softened

1 teaspoon pure vanilla extract

3 cups sifted confectioners' sugar

2-3 tablespoons milk
PREPARATION
Preheat oven to 350 degrees. Using a baking spray, grease 5 heart shaped cake pans.
In a medium bowl, sift flour and salt together, set aside. In the bowl of an electric mixer fitted with the paddle attachment (or using a hand mixer), cream the butter and sugar until light and fluffy, about 3-5 minutes. Add the egg and mix well. Mix in the vanilla extract. Alternate the flour mixture with the buttermilk, beginning and ending with flour mixture.
In a small bowl, mix the red food coloring and cocoa powder until a paste forms. Add this to the batter and mix well. In another small bowl, mix together the baking soda and cider vinegar. It will foam. Add to the batter immediately and mix until well combined in batter.
Divide the batter evenly into the prepared pans, filling about ⅔ full. Bake for 12-14 minutes, or until a toothpick inserted into the center comes out clean. Let the cakes cool in the pan for 10 minutes before turning onto a wire rack. Let cool completely on wire racks.
In a large mixing bowl, beat the cream cheese, butter and vanilla until smooth. Add the powdered sugar and milk. Mix on low speed for a minute and then increase to medium-high speed to beat until well combined.
Assemble cake by placing a layer of heart-shaped cake on a serving plate. Top with frosting, spread evenly. Continue stacking the cake layers until the final layer.
Decorate with sprinkles and hearts.