Impress your Valentine with Molten Chocolate Lava Cakes! All it takes is one bowl and no mixer. Easy-peasy.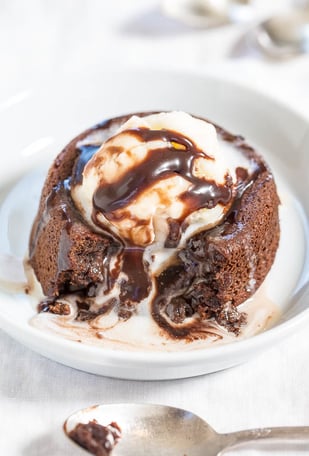 INGREDIENTS:
2 ounces dark chocolate or bittersweet baking chocolate
1/4 cup unsalted butter (1/2 of 1 stick)
1/2 cup confectioners' sugar
1 large egg + 1 egg yolk (discard white or save for another use)
3 tablespoons all-purpose flour
1 teaspoon instant espresso coffee granules, optional but recommended (doesn't make cakes taste like coffee and serves to enhance the chocolate flavor)
ice cream for serving, optional but recommended
hot fudge for serving
INSTRUCTIONS
Preheat oven to 425F and spray two ramekins (about 3-4 inches in diameter or about 4 ounces each) with cooking spray, place ramekins on a baking sheet; set aside.
To a medium microwave-safe bowl, add the chocolate, butter, and heat on high power to melt, about 1 minute. Stop to whisk until smooth. If needed, return bowl to micro and heat in 15-second increments until chocolate can be whisked smooth.
Add the sugar, egg, egg yolk, and whisk until smooth.
Add the flour, optional

espresso granules, and stir until just combined; don't overmix.
Pour batter into prepared ramekins, divided evenly.
Bake for about 12 minutes, or until edges are set but center is still soft; don't overbake. Baking times will vary based on oven, ramekins, and climate variances; bake until as done as desired.
Allow cakes to cool in ramekins for about 1 minute, gently rim the edges of ramekins with a paring knife, and invert over serving dishes to dislodge cakes.
Optionally top with ice cream, hot fudge, and serve immediately. Cakes are best warm and fresh.



A little more about Blue Marsh Insurance...
When he founded Blue Marsh, Tom Davenport wanted to create a different kind of insurance company. One that's built on personal relationships and a local presence. One where you, the customer, feel more like a friend.
As an independent insurance agency, Blue Marsh Insurance represents a carefully selected group of financially strong, reputable insurance companies. Therefore, we are able to offer you the best coverage at the most competitive price.
If you're interested in starting a quote online or having us take a look at your current policies, click here!