Steve's wife made chocolate chip pumpkin bread for our team potluck and it was a big hit!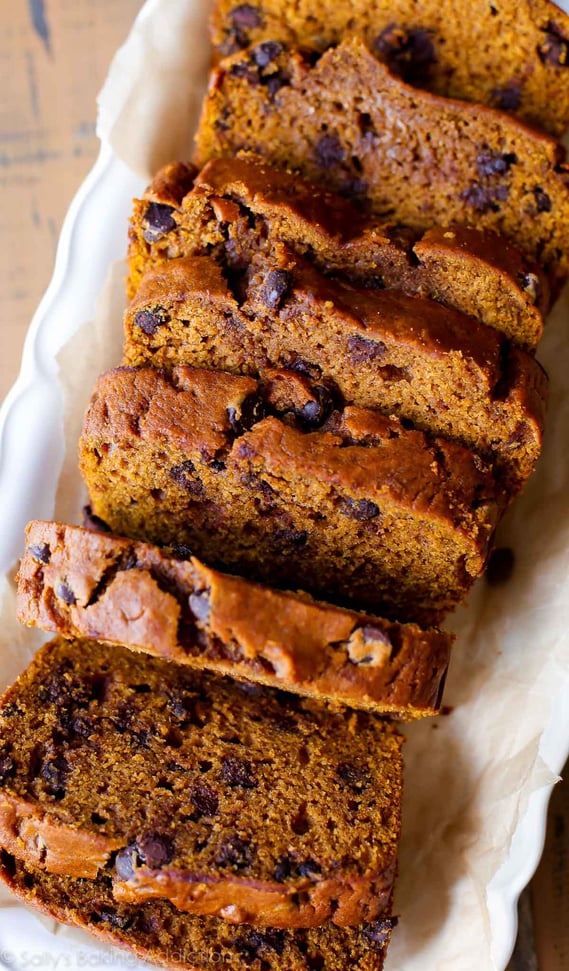 INGREDIENTS:
1 and 3/4 cups all-purpose flour (spooned & leveled)

1 teaspoon baking soda

2 teaspoons ground cinnamon

1/4 teaspoon ground nutmeg*

1/4 teaspoon ground cloves*

1/4 teaspoon ground ginger*

3/4 teaspoon salt

2 large eggs, at room temperature

1/2 cup granulated sugar

3/4 cup packed light or dark brown sugar

1 and 1/2 cups pumpkin puree (canned or fresh)

1/2 cup vegetable oil, canola oil, or melted coconut oil

1/4 cup orange juice*
INSTRUCTION
1. Adjust the oven rack to the lower third position and preheat the oven to 350°F (177°C). Lowering the oven rack prevents the top of your bread from browning too much, too soon. Grease a metal 9×5-inch loaf pan with non-stick spray. Set aside.
2. In a large bowl, whisk the flour, baking soda, cinnamon, nutmeg, cloves, ginger, and salt together until combined. Set aside. In a medium bowl, whisk the eggs, granulated sugar, and brown sugar together until combined. Whisk in the pumpkin, oil, and orange juice. Pour these wet ingredients into the dry ingredients and gently mix together using a rubber spatula or a wooden spoon. There will be a few lumps. Do not over-mix. Gently fold in the chocolate chips, if including.
3. Pour the batter into the prepared loaf pan. Bake for 60–65 minutes, making sure to loosely cover the bread with aluminum foil halfway through to prevent the top from getting too brown. The bread is done when a toothpick inserted in the center comes out clean with only a few small moist crumbs. This may be before or after 60–65 minutes depending on your oven, so begin checking every 5 minutes around the 55-minute mark.
4. Allow the bread to cool completely in the pan on a wire rack before removing and slicing.
Recipe from Sally's Baking Addiction

A little more about Blue Marsh Insurance...
When he founded Blue Marsh, Tom Davenport wanted to create a different kind of insurance company. One that's built on personal relationships and a local presence. One where you, the customer, feel more like a friend.
As an independent insurance agency, Blue Marsh Insurance represents a carefully selected group of financially strong, reputable insurance companies. Therefore, we are able to offer you the best coverage at the most competitive price.
If you're interested in starting a quote online or having us take a look at your current policies, click here!