Katie had some extra peppers from her garden that she had to use up, so this recipe fit the bill! Easy, healthy and delicious and fresh from the garden.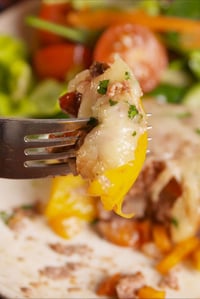 INGREDIENTS:
1 tsp.

Worcestershire sauce

1/2

onion, finely chopped

1/2 tsp.

fresh thyme leaves, chopped

Freshly ground black pepper

2 c.

shredded Monterey Jack

1 tbsp.

fresh parsley, for garnish
PREPARATION
Preheat oven to 350° and line a medium baking sheet with parchment paper. Cut ends off peppers and finely chop (minus the stems), then set aside. Remove seeds and slice peppers into 2" thick rings; you should be able to get 2 rings out of each pepper. Place on prepared baking sheet.
In a large bowl, combine beef with chopped peppers, bread crumbs, egg, Worcestershire sauce, onion, thyme, garlic, and tomato paste. Season with salt and pepper and stir until combined. Fill each pepper ring with meat loaf mixture.
In a small bowl, whisk together ketchup and brown sugar and brush on tops of meat loaves. Bake for 35 minutes, then top with cheese, and bake 5 to 10 minutes more, or until cheese is melty. Garnish with parsley and serve.