Katie's Grandma makes these cookies and she LOVES them! Give them a try this holiday season!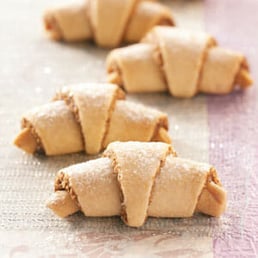 INGREDIENTS
1 cup plus 1 teaspoon butter, softened, divided
1 package (8 ounces) cream cheese, softened
3 cups all-purpose flour
4 cups ground walnuts
1-1/4 cups sugar, divided
1/2 cup 2% milk
1 teaspoon vanilla extract
1/8 teaspoon salt
PREPARATION
In a large bowl, beat 1 cup butter and the cream cheese until light and fluffy. Gradually add flour, beating until mixture forms a ball. Divide dough into four portions; roll each into a 12-in. circle.

Melt the remaining butter. In a large bowl, combine the walnuts, 3/4 cup sugar, milk, vanilla, salt and melted butter. Spread over circles. Cut each into 12 wedges. Roll up wedges, starting from the wide ends.

Place point side down on greased

baking sheets

. Curve ends to form crescents. Bake at 325° for 35-40 minutes or until lightly browned. Remove to wire racks.

Place remaining sugar in a small shallow bowl. Roll warm cookies in sugar.