This spicy and savory dinner is prepped the night before and is perfect for throwing in the oven after a long day!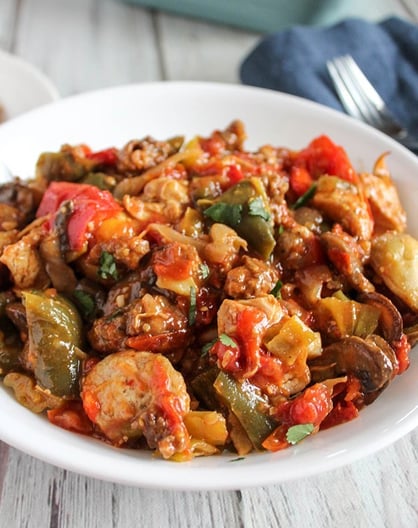 INGREDIENTS
6 chicken breast halves (1 always slice the chicken to make it thin, then cut it in half again so the pieces are small and thin. They soak up skinned the wine nicely.)

I cup dry white wine

I tsp basil

1 tsp oregano

1/2 .tsp garlic powder

l/4 tsp salt

1/8 tsp pepper

2 Tbsp melted butter

I (14 oz) jar of cherry peppers

1 pound fresh mushrooms halved
PREPARATION
Place chicken in a lightly greased 9x13 inch baking dish.

Combine wine, basil, oregano, garlic powder, salt and pepper in a cup. Mix well. Pour over chicken. Cover and refrigerate overnight.

The next day, remove chicken from refrigerator and let stand for 30 minutes. Brush butter over chicken

breasts,

pour peppers and their liquid over top. Cover and bake at 350 for 40 minutes.

Uncover and bake additional 20 minutes.
Serve over angel hair pasta.