This is one of my FAVORITE recipes because it's a yummy way to use up your leftovers in a new twist! Serve it on a roll or just eat it as is. Either way, it is delicious!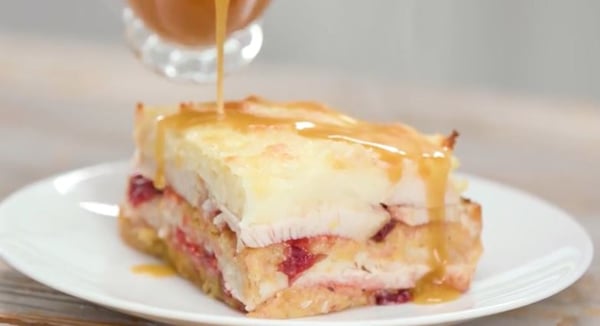 INGREDIENTS
3 cups leftover cornbread stuffing, divided

1

(14 oz) can whole berry cranberry sauce, divided

1

1/4 pounds cooked turkey breast, sliced into 1/4 inch slices, divided

3 cups cooked mashed potatoes, divided
6 ounces sharp white cheddar cheese, shredded (about 1 1/2 cups), divided
Turkey gravy, for serving
PREPARATION
Preheat oven to 400 degrees. Lightly grease an 8-inch square glass baking dish with cooking spray.

Spread half of the stuffing in an even layer in bottom of prepared baking dish. Spread half of the cranberry sauce in an even layer over stuffing. Layer half of turkey slices on top of cranberry sauce, then spread half of the mashed potatoes on top of turkey slices. Sprinkle half of the shredded cheese on top of potatoes. Repeat layers once. Bake in preheated oven until lasagna is warmed through, about 20 minutes. Increase heat to broil, and broil until cheese is golden, about 2 minutes.

Remove from oven, and let stand 5 minutes before cutting into 9 squares. Spoon gravy over each square to serve.