Have you ever heard of a quesadilla burger? Now you have! Katie says this recipe is a staple in her house. Give it a try and let us know what you think!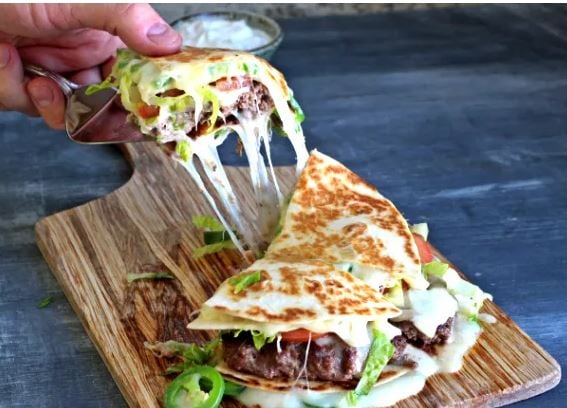 INGREDIENTS:
8

Old El Paso Flour Tortillas for Soft Tacos

4

ounces

cheddar sliced thin

4

ounces

jack cheese sliced thin

2

jalapenos sliced into thin rounds

1

pound

ground beef

1

large tomato sliced

1

romaine chopped

1

cup

sour cream for dipping
INSTRUCTIONS
Place a tortilla down on your work surface and top with about 1.5 ounces of cheese. Add jalapenos. Place the second tortilla on top. Repeat until you make 4 quesadillas.

Split the beef in half and form 2 large burgers, making sure they are bigger around than the quesadillas because they will shrink as they cook. Season with salt and pepper.

Cook the quesadillas one by one in a skillet on both sides with a little oil to brown. Remove from the pan and place on a serving platter.

Cook the burgers in the same skillet one by one to brown on both sides. When you flip the burger, add the remaining cheese to the top of the burger so it can melt as it cooks through.

Place the burgers on top of 2 of the quesadillas. Top with tomato and lettuce, and then top with the additional quesadillas.

Allow to rest 5 minutes, and then slice into quarters. Serve with sour cream.

If your burger patties are too small, then the quesadilla will flop over and the presentation won't look as nice. Make sure the diameter of the burgers are about 1/2 inch bigger than the quesadillas.

Allowing the burgers to rest will help the juices redistribute and not go leaking everywhere when you cut them.
Recipe from The Food in My Beard

A little more about Blue Marsh Insurance...
When he founded Blue Marsh, Tom Davenport wanted to create a different kind of insurance company. One that's built on personal relationships and a local presence. One where you, the customer, feel more like a friend.
As an independent insurance agency, Blue Marsh Insurance represents a carefully selected group of financially strong, reputable insurance companies. Therefore, we are able to offer you the best coverage at the most competitive price.
If you're interested in starting a quote online or having us take a look at your current policies, click here!