Erika credits this One-Pot Pad Thai recipe for reigniting her excitement about trying new recipes! If you're making this for your family (and they are sensitive to spice), turn down the heat a little by using less sriracha.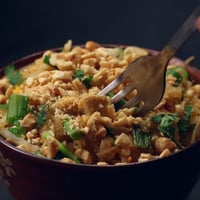 INGREDIENTS:
8 oz Pad Thai noodle, or noodles of your choice

2 tablespoons sesame oil, divided

2 egg

1 chicken breast, diced

¼ cup shallot

¾ cup Pad Thai sauce, we used 2 tablespoons each of fish sauce, rice vinegar, soy sauce, brown sugar, lime juice, and sriracha

1 cup bean sprout

½ cup peanuts, crushed, plus more for garnish

¼ cup green onion, plus more for garnish

¼ cup fresh cilantro, plus more for garnish
PREPARATION
1. Cook the noodles according to the package instructions.

2. Toss with 1 tablespoon of sesame oil and set aside.

3. Add ½ teaspoon of sesame oil to a pot with the lightly beaten eggs. When the eggs are finished cooking, set aside.

4. Pour the remaining ½ tablespoon of sesame oil into the pot and add the diced chicken breast. Cook until no longer pink in the middle, then set aside.

5. Add the shallots to the pot and cook until lightly browned and fragrant. Then, add the noodles, eggs, and chicken back into the pot.

6. Pour in the Pad Thai sauce and toss to coat.

7. Top with the bean sprouts, crushed peanuts, green onions, and cilantro, and stir until well blended.

8. Dish up and garnish with extra peanuts, green onions, and cilantro.

9. Enjoy!