Even though this isn't technically lasagna, your whole family is going to love these traditional Mexican ingredients layered on top of one another to make the most delicious dinner. No lasagna noodles required!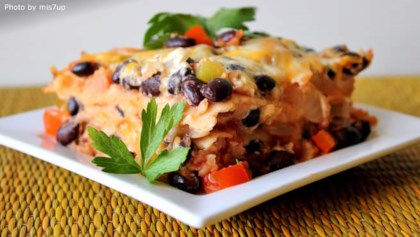 INGREDIENTS:
1 1/2 pounds ground beef
1/4 cup water
1 (1 ounce) packet taco seasoning mix
12 (8 inch) flour tortillas
1 (14 ounce) can refried beans
3 cups shredded colby jack cheese
1 (8 ounce) jar taco sauce
1 cup shredded colby jack cheese
PREPARATION
1. Preheat oven to 350 degrees F (175 degrees C). Grease a 9x13-inch casserole dish.
2. Heat a large skillet over medium-high heat and stir in ground beef. Cook and stir until beef is crumbly, evenly browned, and no longer pink, about 10 minutes. Drain and discard any excess grease. Add water and taco seasoning; cook and stir until mixture has thickened, 5 to 10 minutes.
3.Arrange 3 tortillas in the bottom of the casserole dish; spread about half the can of refried beans and half the ground beef atop the tortilla layer. Sprinkle 1 cup Colby-Jack cheese over ground beef layer. Arrange 3 more tortillas over the cheese. Spread in the remaining 1/2 can refried beans and half the jar of taco sauce; sprinkle with 1 cup Colby-Jack cheese. Arrange 3 more tortillas and top with remaining ground beef and 1 cup Colby-Jack cheese. Top with last 3 tortillas and remaining 1/2 jar taco sauce.
4. Bake in the preheated oven until top tortilla layer begins to brown, 20 to 25 minutes. Sprinkle 1 cup Colby-Jack cheese over lasagna.
5. Turn on oven's broiler.
6. Place lasagna under the broiler until Colby-Jack cheese is melted and bubbling, 3 to 5 minutes. (Be sure to watch it!)
7. Slice and enjoy!