This apple bread is family favorite in Steve's house. It would be the perfect breakfast for the upcoming holidays!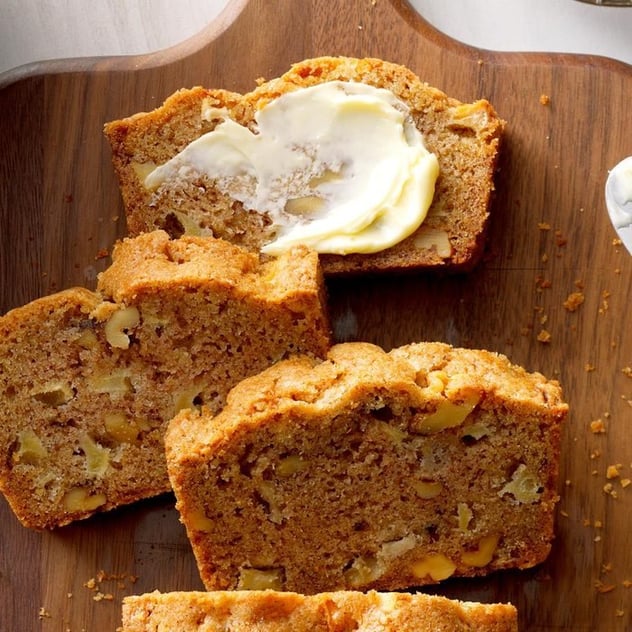 INGREDIENTS:
3 cups all-purpose flour
2 cups sugar
1 teaspoon ground cinnamon
1 teaspoon baking soda
1 teaspoon salt
3 large eggs, room temperature
1 cup canola oil
1 teaspoon vanilla extract
3 cups chopped peeled apples
INSTRUCTIONS
In a small bowl, mix 1 tsp cinnamon with 1/3 cup sugar (to sprinkle on bread before baking).
Heat oven to 325 degrees.
Mix the oil, eggs, sugar and vanilla. Set aside.
Mix flour, cinnamon, soda and salt.
Add dry ingredients to oil mixture gradually.
Add apples.
Spoon into 2 regular loaf pans (greased).
Sprinkle apple bread mixture with sugar/cinnamon mixture.
Bake at 325 for 55-60 minutes.

A little more about Blue Marsh Insurance...
When he founded Blue Marsh, Tom Davenport wanted to create a different kind of insurance company. One that's built on personal relationships and a local presence. One where you, the customer, feel more like a friend.
As an independent insurance agency, Blue Marsh Insurance represents a carefully selected group of financially strong, reputable insurance companies. Therefore, we are able to offer you the best coverage at the most competitive price.
If you're interested in starting a quote online or having us take a look at your current policies, click here!