Since firecrackers are synonymous with the month of July, this month we wanted to share one of our favorite dinners, Firecracker Chicken Stir-Fry! Easy, spicy, and fresh, you're sure to love it as much as we do!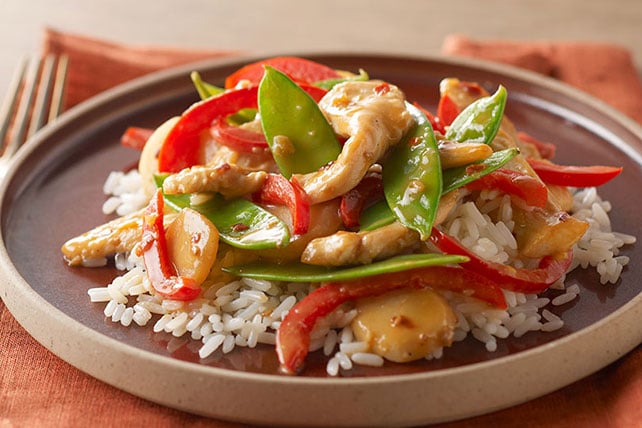 INGREDIENTS
1 Tbsp. oil
1 lb. boneless skinless chicken breasts, cut into thin strips
3 cloves garlic, minced
1 red bell pepper, cut into strips
1 cup snow peas, trimmed
1 can (8 oz.) sliced water chestnuts, drained
1/3 cup KRAFT Lite Asian Toasted Sesame Dressing
1/4 tsp. crushed red pepper
2 cups hot cooked long-grain white rice
PREPARATION
1. Heat oil in large nonstick skillet on medium-high heat. Add chicken and garlic; stir-fry 4 min. or until chicken is evenly browned.
2. Add pepper strips and snow peas; stir-fry 2 to 3 min. or until peppers are crisp-tender and chicken is done. Add water chestnuts, dressing and crushed pepper; stir-fry 2 min. or until heated through.